REBOL Demo Contest - Holiday Edition
Information
The first REBOL Holiday demo contest ended 31-Jan-2006. There were 27 scripts submitted to the contest during the holiday.
Click here to view the contest script submissions.
Why did we decide to have this contest? Well, mainly for fun. Programming can sometimes get dull and tedious (especially if you use languages other than REBOL), so what better than to take some time off during the holidays, dust off those brain cells, and see what kinds of cool creative concepts will bubble up. Also, some of the best programmers in the REBOL community first appeared in the spotlight of prior REBOL demo contests.
And the winners are...
Picking the winners was difficult. Many good demos were submitted, and we would like to thank all authors for their entries.
The judges were split over the winning entry. Some of us liked the pure multimedia demos that were true to the original Amiga demo theme while other judges were more in favor of demos that did something useful, a real application of some kind.
So... since the objective of the demo was not perfectly clear, we decided to award two prizes this time. One for what we thought was the best demo, the other for the best application or tool.
Winner For Best Multimedia Demo
Richard "Cyphre" Smolak for Quick Hack. This is quite an amazing demo for its small size (28KB, compressed REBOL) and it is true to the traditional "Amiga Demo" concept. The demo displays a wide variety of interesting graphical effects (using the new REBOL DRAW features) while playing a fun little tune the entire time.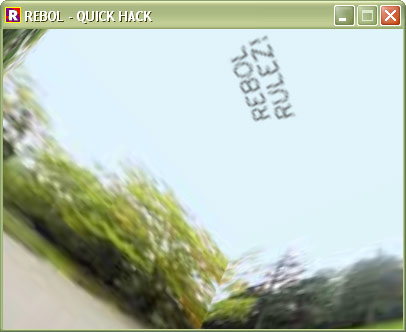 Frankly, one of the reasons we appreciated this demo was that it ran "glitch free" even though we know there are a few REBOL bugs that must have gotten in the way (such as the sound segment bug). It truly shows what is possible with REBOL, and we think that we will be seeing a lot more of this type of REBOL script in the future.
A close runner-up in the demo category was PitchGreen by Boleslav Brezovsky, but there are many other good demo examples as well. It was difficult to pick the winner.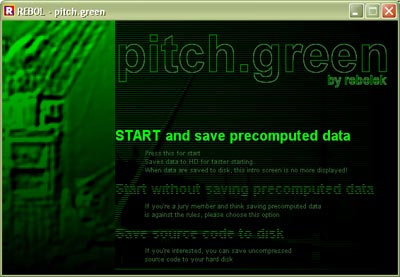 To run these demos, just run REBOL/View desktop (Viewtop), click on the REBOL icon, then click on the Contest folder.
Winner For Best Application or Tool
Martin Johannesson for HyperNotes
This is a nice little personal hyperlinked notebook. In the words of the author: "HyperNotes is a hyperlinked, hierachically ordered notebook, much like a personal WiKi. The main purpose of HyperNotes is to provide the means for a single user to organize information and random thoughts in a convenient, easily accessible format."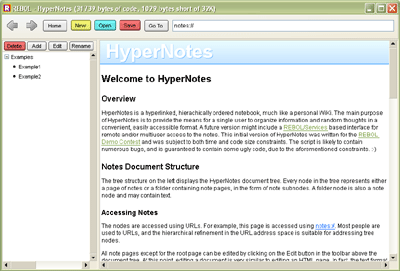 This script is very well done. It includes a built-in "rich-text" viewer, document tree navigator, and editor, plus we really like the fact that this script does a good job making hyperlinked text (something that is not so easy using the existing text layout system). In addition it was great to see the program use the MakeDoc document source format, making it immediately compatible with dozens of existing REBOL documents. (Carl Sassenrath, REBOL founder, is already thinking about how to start using it for writing and maintaining REBOL documentation and websites.)
A closer runner-up was the KurtSynth application by Kurt Sassenrath. The judges liked the fact that it allowed users to create their own waveforms and envelopes, as well as save and load them, all in an 8 KB script.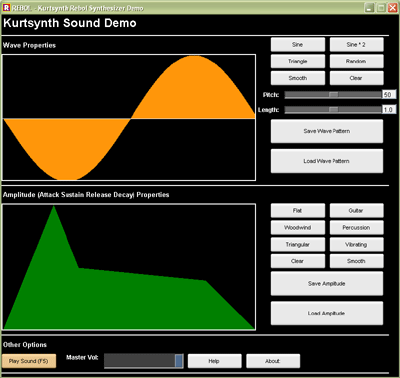 There were other useful app/tool scripts, such as the cool Synapse Chat by Graham Chiu built on the BEER peer-to-peer protocol. We invite you to give all of these scripts a try.
To run these tools, just run REBOL/View desktop (Viewtop), click on the REBOL icon, then click on the Contest folder.
The prize for the best demo will be an Apple IPod or Sony PSP, plus of course the fame and recognition of writing such a small and amazing demo.
For original contest rules and FAQ, see the REBOL Demo Contest Information page.