Comments on: Ticket progress chart
Here is a quick summary of recent progress fixing and implementing R3 tickets: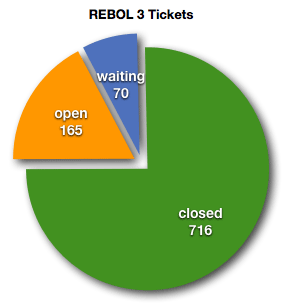 I would like to thank the members of the REBOL community for their active involvement in submitting high quality tickets and help with fixing these tickets.
Comments:
Brian Hawley
26-Jun-2009 19:28:53
Thanks especially to meijeru, who is the current leader in request and bug report submissions. Several new tickets per day! And even the dismissed ones serve as good documentation of the design decisions of REBOL. Good work!
meijeru
9-Jul-2009 4:03:42
It pays to go over some of the earlier tickets that are still in "reviewed" stage, since I noticed that several of them (e.g. #952) have effectively been closed. This would show the record is even better than shown above.
meijeru
15-Jul-2009 8:25:12
Ticket 1046 can be closed too.
Post a Comment:
You can post a comment here. Keep it on-topic.